Definition of 
epiphany
plural epiphanies
1
capitalized
: January 6 observed as a church festival in commemoration of the coming of the Magi as the first manifestation of Christ to the Gentiles or in the Eastern Church in commemoration of the baptism of Christ
2
: an appearance or manifestation especially of a divine being
3

a 

(1)
: a usually sudden manifestation or perception of the essential nature or meaning of something 
(

2

)
: an intuitive grasp of reality through something (such as an event) usually simple and striking 
(

3

)
: an illuminating discovery, realization, or disclosure
b
: a revealing scene or moment
In truth, I did not know anything about the Christian use of the word Epiphany until 11 years ago but I'm not talking about that definition. I am talking about the noncapitalized use of the word-the sudden deep understanding that hits a person with clarity.
So, I always believed this concept but last evening I UNDERSTOOD it. I now recognize the difference and that difference is profound.
I always was a good student. I liked school. It was very much a place for social interaction but I also enjoyed the exploration of information.  I remember the handful of amazing teachers I had with great respect.
I graduated about 17th in my class of 350 or so. I did not work hard, so perhaps I could have done better, but it was a place where I felt satisfaction. I could get decent grades while enjoying band, Girl Scouts, my religious youth group activities and more. I was not so dedicated to my schooling that I did not have fun although I have always been a goodie-two-shoes, so my concept of what is fun and yours may differ.
I struggled with math and science but managed to get As and Bs.  Still, I always assumed people who could do math easily, like my husband and my children, were smarter than I am.
Last evening it hit me that they are NOT smarter because they can do math. They just have different strengths than I do. Graham, for example, is a good writer, but he is not comfortable with a writing assignment, any more than I am with math.
And yet, I can whip out an essay about a lot of things easily. Still, we do not consider someone who can communicate in writing to be "smarter" than someone else who finds it difficult.
I believe as more and more people participate in the dumbing down of America, as mobile phone usage has lead people to assume headlines and sound bites are all the information they need, that evaluation of intelligence will have to change.
I also believe that intellectual intelligence is only one of many parts of a person's makeup that enables success in life. Each person's emotional maturity also permits analysis and growth….or frustration and stagnation. A high IQ with low EQ will usually lead to a life of alienation, feeling misunderstood by everyone.  The third aspect of intelligence is how you get along with others….can you accept people as they are or are you always judging others?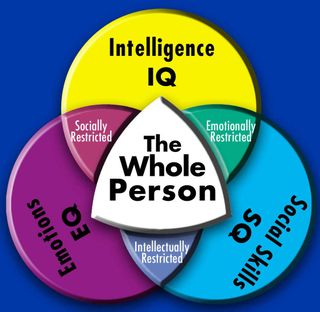 So, no longer will I feel inferior in comparison to a person who works comfortably in areas where my personal understanding is a bit stressed. I know I have other strengths…and I can fly well with them.
How about you?