I think ALL of us can agree on one thing: our American society is sick right now.   So much finger pointing is going on about the causes, but there are some truths that can't be ignored.
One is on male anger: our young boys are taught to "man up", to suppress their natural dismay and fear and unhappiness and learn to be stoic. And the hurts build up until it festers.  Some people turn inward and we have a lot of teen depression and anxiety. Others, unfortunately, turn outwards and access a way to strike out. Such are mass murderers nurtured…..and it is all of us who parented that one. Because we are part of the society that encourages this way of raising boys. Today there was another shooting in Texas with 5 dead and 21 injured..and it was a young white male who is the (now dead) suspected perp.
The other is white male privilege. I read an opinion piece I urge you to read. It's long and you might want to close it down. I urge you, instead, to read it in bits. Take it in. Share it. It may not resonate with you but when I read it, I had a few insights of enlightenment. Perhaps you can, too.
Christianity and the Cult of Trump, published by Utne Reader, was written by Miguel A. De La Torre, from Burying White Privilege.  
It is apparent to anyone who is not a white male that the white guys have access to many things that people of color and women generally have to work harder to achieve. And we know pay scales are different. We know perception of why people act the way they do is different based on color and gender. This article develops the historic reasons why.
The ONLY time I ever was close to a position that the white males of the USA enjoy was the summer of 1972 when I went to Israel. It took a few weeks there when it hit me: most people around me were Jewish. It was the first time in my life that I was in the majority. I was no longer an "other".
While I had entered the identifiable group, I was only on the fringe because I did not have the language nor a lot of the modern cultural knowledge, but, once learned, I would be there.  I propose to you to consider the experience you had when you visited the country  where your family's heritage is based. You may not been able to speak (fluently) in that language and you would not know the day-to-day societal norms, but you could learn them if you immersed.  If you have never gone to the "old country" nor ever really learned any ethic cooking, dances, or stories, if your family has lost its cultural heritage and you just "know" you are part Irish, for example, you probably will not be able to access this point of insight.  It is NOT the feeling you get when you are on your 5th green beer on St. Patrick's Day and just looovveeee everyone in the bar.
That feeling of "belonging" to a group that is in the majority and has a strong voice in the society gave me a sense of calm……and I had not recognized prior that I was otherwise anxious. That anxiety increased greatly when I lived in the Bible Belt and was very definitely an "other" much more than when I grew up in the ethically and culturally diverse New York metropolitan area.
So, without even going into the God-given rights as discussed in Christianity and the Cult of Trump, I could see that white men subconsciously feel safe. Since they have been the predominate group, they have the power.  And when I felt for the experience I had, the feeling of being IN the group in Israel, I could finally grasp just what white male privilege is.
Part of the pushback by angry white men MIGHT be because  it sounds like they are being considered "inferior" because of skin color and that is an impossibly hard concept to swallow (and yes, ironic as hell).  No, it's not your skin color……it is your attitude. But your skin color gave you access and so your attitude is that everyone has equal access, which is not true.  Once you wake up to the difference, we can begin the job of healing this society.
The second insight I received reading this article was related to religion. As you know, I am Jewish but married to a Christian. For twelve years I have been attending church with him, learning about the stories and practices of this faith. And what I have learned has taught me that Jesus was all about teaching love by actions. He tried to simplify things, since people then like people now seem to have issues with reading long and deep. He acknowledged the Ten Commandments but basically said it comes down to treating others the way you want to be treated. That really should be simple enough for people to understand….but it is not.
I told my husband I would go to church with him but only as long as people respected me. His answer, "If they don't, we're in the wrong place." So I was embraced by people at Ascension & Holy Trinity Episcopal Church in Pueblo, Colorado for my introduction. The people at Huntington, West Virginia's St. John's Episcopal Church asked especially for me to participate in study groups because my point of view would be different and would lead to more interesting discussion. Now in McMinnville, Oregon at McMinnville Cooperative Ministry, a blended Lutheran-Methodist church, I am participating in actions to help the community and even though I am not baptized, I am recognized as a full member of the congregation.
Simply, the exposure I have had to Christianity has lead me to understand that we are all imperfect but should be striving to BE LIKE JESUS.
In contrast, the Christianity I saw on full display living in the Bible Belt was, for the most part, significantly different.  When I first moved to Nashville in 1975 I was greeted "Hello! Welcome to Nashville! What church do you belong to?" in one continuous breath.  Sunday mornings were the best time to go grocery shopping (except the beer was inaccessible until noon, not a big problem for me.) because people either were in church or sleeping in; basically not going out in public if not at church so not to be identified as "one of those". It also was when I learned not to expect to schedule anything on Wednesday night, as many had midweek church suppers at the very least.
So, if they were so tuned into church life, why was there so much anger towards "others"?
I worked for 18 months (way too long) in an office in Vanderbilt Medical Center where the electronic medical equipment was repaired and kept running at peak efficiency.  The assistant director was a guy in his late 30s who proudly told me he was an elder in his church. He also told me that all the other people who thought they were Christian were not. He belonged to the XYZ Christian Church and others went to Southern Baptist or Church of Christ or some other denomination without "Christian" in their name. Ergo, they were not Christian.  He said all this with a straight face.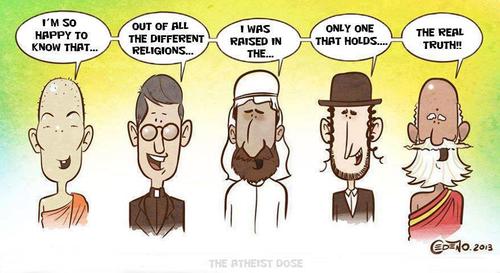 This same guy stumbled into work bleary-eyed one morning shortly after his second child had been born. I asked if the baby had kept him up. No, it was another problem. At his church.  Apparently, one of the Sunday School teacher positions had to be filled and the congregation had been asked for volunteers. Two men had offered but they just could not be considered. Why? He was hesitant to speak it….I wondered if he knew his indoctrination was not quite right and that caused him distress? He finally said that the two guys were "a couple." I responded with "What's the problem?" He was shocked I didn't automatically "get it" and asked "Would you want one of THEM teaching your kids?"  I kept calm and asked him if the Sunday School has a curriculum that the teachers use to teach the religious training they want the kids to get. Yes. I asked if any of the curriculum included getting naked and touching each other. NO!!! "Well, then," I repeated, "what's the problem?"  He stomped away in frustration. (I seriously hated using that argument because it feeds the convoluted concept that homosexuals are pedophiles even as we hear at LEAST once a month about some ordained Christian minister being caught in incest or some other inappropriate act with a minor. And THAT gets no discussion so it really is a GREAT example of white male privilege.)
The next morning the boss stumbled in again and I played coy and again asked if the baby was ok. Yes,….it was "the other thing."  Turned out, after kids were asleep and his wife also and he was just drifting off he clearly heard a deep resonant voice (James Earl Jones?) "Love your brother!"  And a few seconds later, it was repeated, "Love your brother!" I asked him if God had ever talked to him before and he slowly said " noooo". So then I told him the message was pretty clear…..and was he going to approve hiring the two volunteers for the teaching spot. He didn't want to. So, I pushed a bit, "But God told you to LOVE YOUR BROTHER and I think God would be okay if you just let him teach the class."
I have no idea what eventually happened there.  I would prefer to think that those guys found a better church family, one that could respect and love them as Christ taught. (Is it considered teaching if teh lesson is not learned?)   But this was only one of many many incidents related to the need to make everyone believe the same that I experienced and for many, I was the one they were trying to change.
These experiences, when compared to the ones I have had at the churches where I attended, have been significantly different and when Miguel A. De La Torre wrote in his essay Christianity and the Cult of Trump, he mentioned that Christianity as practiced in the South IS different from Christianity practiced elsewhere in the USA.
I want to interject that I know there are "liberal" churches in the South, just as there are "conservative" churches throughout the country.  In the 21 years that I lived in Tennessee I had five active Christian friends who walked the walk and loved me as I am with no "need" to fix me.  And I have also met others in other areas of the country who very much want to "save" me.
The point Mr.De La Torre wrote and I sensed is that when a culture has a majority population with a similar mindset, it influences the mores of the area.  So, with a pervasive attitude in the Bible Belt that the fundamentalist spin is the ONLY right way to Christ, it makes everyone else an "other". That means the unchurched, the nonChristians, and so many others need to be fixed or made to leave.
I very much felt like an "Other" in the South and there are a few people around me that may try also.  Because white men essentially run this nation and the conservative Christian church has learned how to make their voice heard, we are all immersed in this struggle.  The first step is to stop denying it.